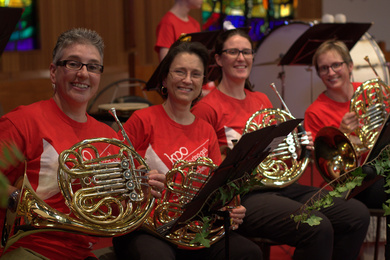 Help the KPO
The KPO is a truly community-based orchestra.
A modest grant from Ku-ring-gai Council contributes less than 10% of the Orchestra's annual income; no on-going financial support is received from the State or Federal governments. So each year more than 90% of the Orchestra's funding must be sourced from ticket sales, from the support of many individuals and from community-minded companies.
You can demonstrate your support of the KPO in many ways:
By attending our concerts. You'll hear great performances of appealing music…and tickets are very attractively priced.
Join the Friends of the KPO. Membership is just $30 – and you'll be immediately helping the orchestra to greatly expand its artistic quality and reach.
Make an individual gift. You can help the orchestra by simply making a tax deductable donation to the KPO. If you prefer, we can direct your support to fund a specific project. Call 9144 6747 to discuss the available options.
Advertise in our Concert Programs, distributed to all ticket holders and orchestra members at each concert.
Become a Corporate Sponsor – please see Sponsorship Opportunities below.
Make a bequest. Your legacy – however modest – can help the KPO continue or expand its valued community-oriented programs.
Give some of your time, to help at concerts, with marketing or other administrative tasks – please see the Friends of the KPO page for further details.
Sponsorship Opportunities
A significant part of KPO's annual budget is derived from unique sponsorship and advertising opportunities offered by the KPO. In return, we give business supporters a very satisfying relationship with the Orchestra, and value for the money they've allocated to the KPO. And significant commercial tax benefit can also result from advertising or sponsorship support given to the KPO.
The KPO has partnership opportunities to suit all budgets. For example:
Place an advertisement in our Concert Programs (provided free to each ticket holder at Concerts, and to members of the Orchestra).
Become a supporter of our popular Kids' Proms concerts.
Help meet the costs of running our Young Composers Workshops.
Be the sponsor of one of our Symphony Concerts.
Call 0412 797 223 to discuss how your business can benefit from supporting the KPO.
KPO is looking for an Angel
We have a number of significant recurring costs that mean - every year - our volunteers are faced with the task of raising the funds needed for activities such as the NSW Secondary Schools Concerto Competition and our Kids' Proms. We'd love to secure funding that guarantees the long-term future of these events... and, simultaneously, relieve the orchestra of the burden of having to continually look for supporters and sponsors for these events.
Over the past decade or so, bequests have become an important source of funds for Australian orchestras and other arts organizations. Proceeds from a generous bequest, or a number of bequests, seem to be an ideal way for the KPO to fund the NSW Secondary Schools Concerto Competition, our annual Kids' Proms, and other regular KPO activities, for many years into the future.
Can you help? When next updating your Will, please consider including a bequest to the KPO.
If you require wording for a Codicil to your existing Will, or if your Will needs re-writing and you choose to include a bequest to the KPO, please contact Bruce Hamer of Hamer & Hamer Solicitors of Gordon (9498 8021). He will provide you with the Codicil, or re-draft your Will, at no charge.
If you also wish to discuss directing your bequest to a specific KPO project, or would like it to fund an enduring memorial (e.g. fund a prize in the NSW Secondary Schools Concerto Competition as the "Mary Smith Senior Section Prize") Anne (0412 797 223) from the Orchestra would be pleased to talk with you.
The KPO thanks you, in advance, for considering an appropriate bequest in your Will as a further way of helping the Orchestra.